GJJ-SCP type construction lift platform
GJJ SCP 160  SCP 280  type construction lift platform
Jiaxing Jingyang Construction Machinery Co., Ltd. is a newly established joint venture occupying a piece of land of 208 mu. It is an enterprise with new and high technology in the research and development, production, sales and service of construction machinery such as lift platform, all types of construction hoists, and tower cranes. The registered trade mark JINGYANG is one of the most famous brand names of hoist manufacturer over the world as well as a famous brand name in China, and the sales network of its products covers countries and regions in the Europe and America, and in the Southeast Asia.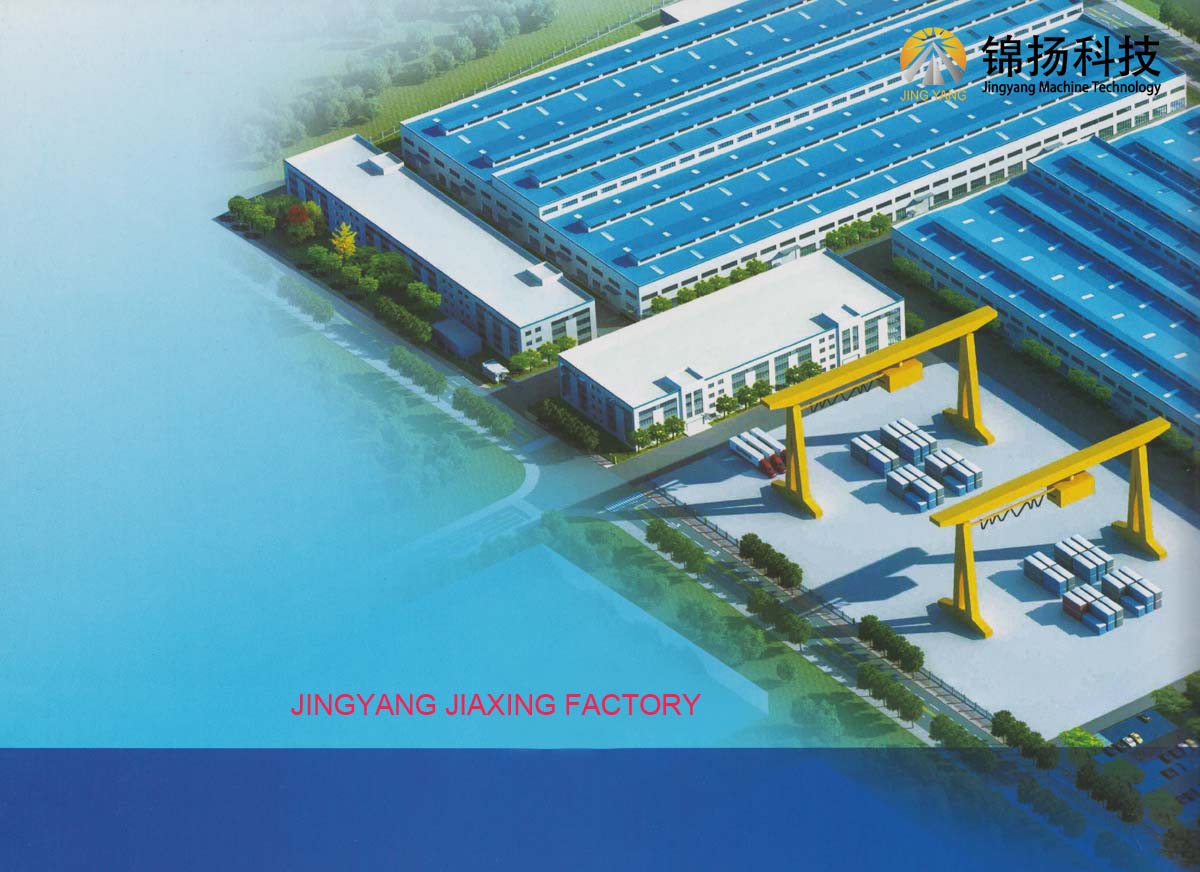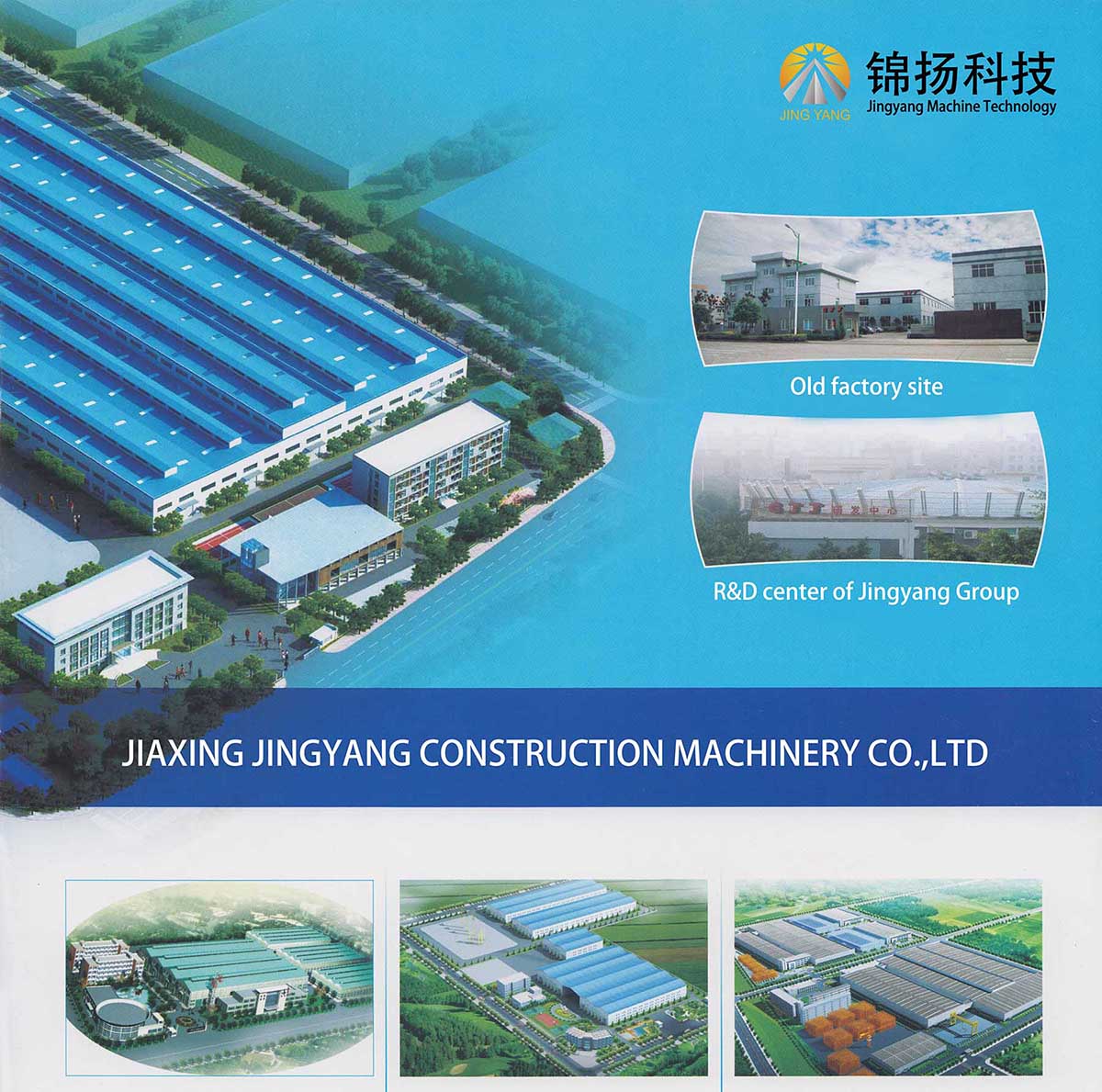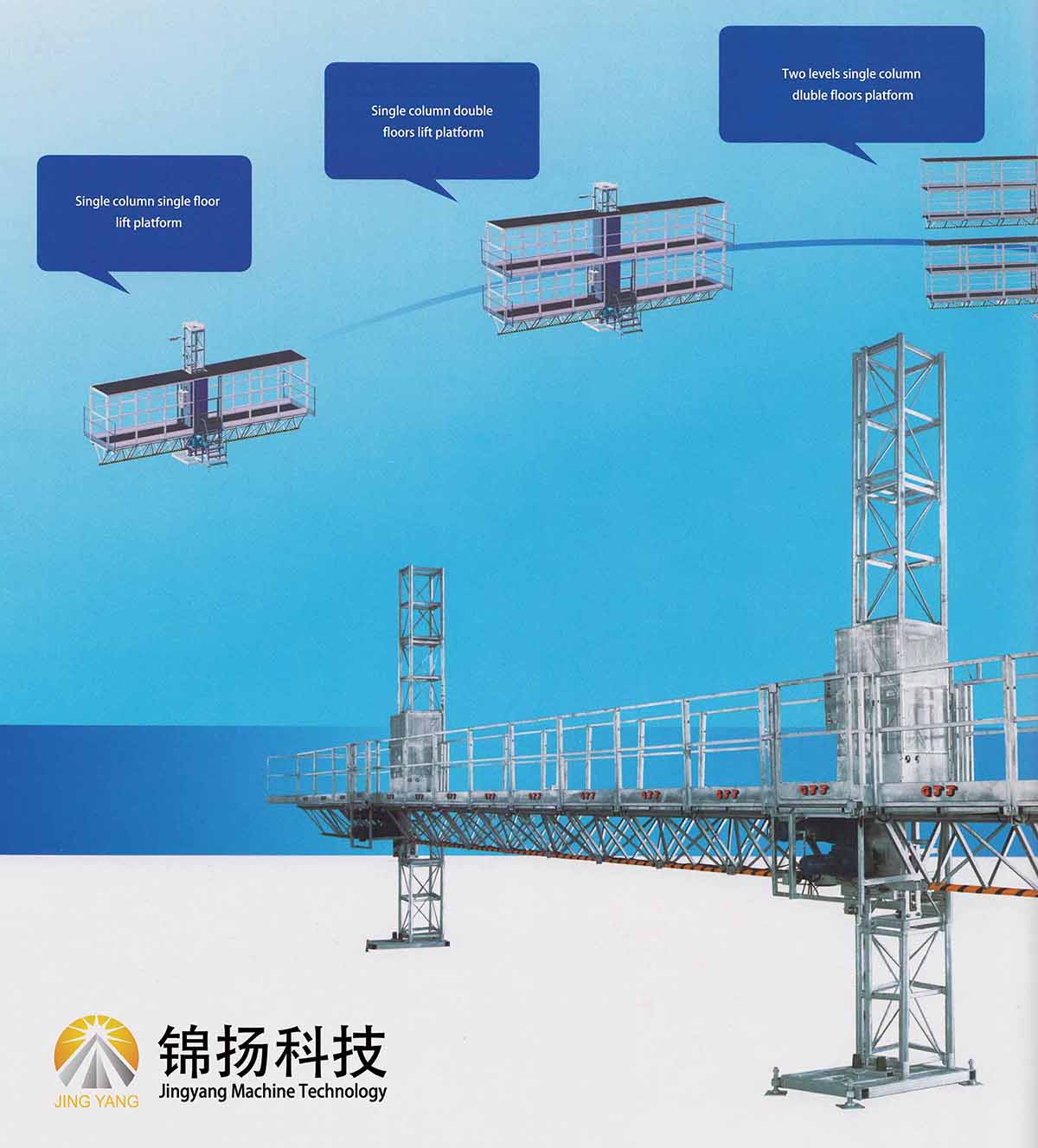 PRODUCT INTRODUCTION
The SCP type construction lifting platform is an aerial work platform designed by our company on the basis of the existing sc type construction elevator. It can replace traditional scaffolding and hanging baskets for building structure construction and exterior wall decoration and decoration construction, which can greatly improve the degree of mechanized construction, construction efficiency, reduce labor intensity, ensure construction safety, and simple operation.
The SCP type construction lifting platform is a lifting machine driven by rack and pinion. It has a very reliable electrical and mechanical safety system. It can rise automatically as the building continues to rise. The platform can be lengthened and shortened as needed. Or widening, it is an indispensable mechanical equipment in construction.
SCP type construction lifting platform, its motor, brake and reducer can use German famous brand NORD products, the main electricity
Gas components and important mechanical components such as bearings and oil seals are all made of European famous brand products. Important steel structural parts are made of high-quality steel at home and abroad. The surface of steel structures such as rail frames is hot-dip galvanized to ensure good corrosion resistance.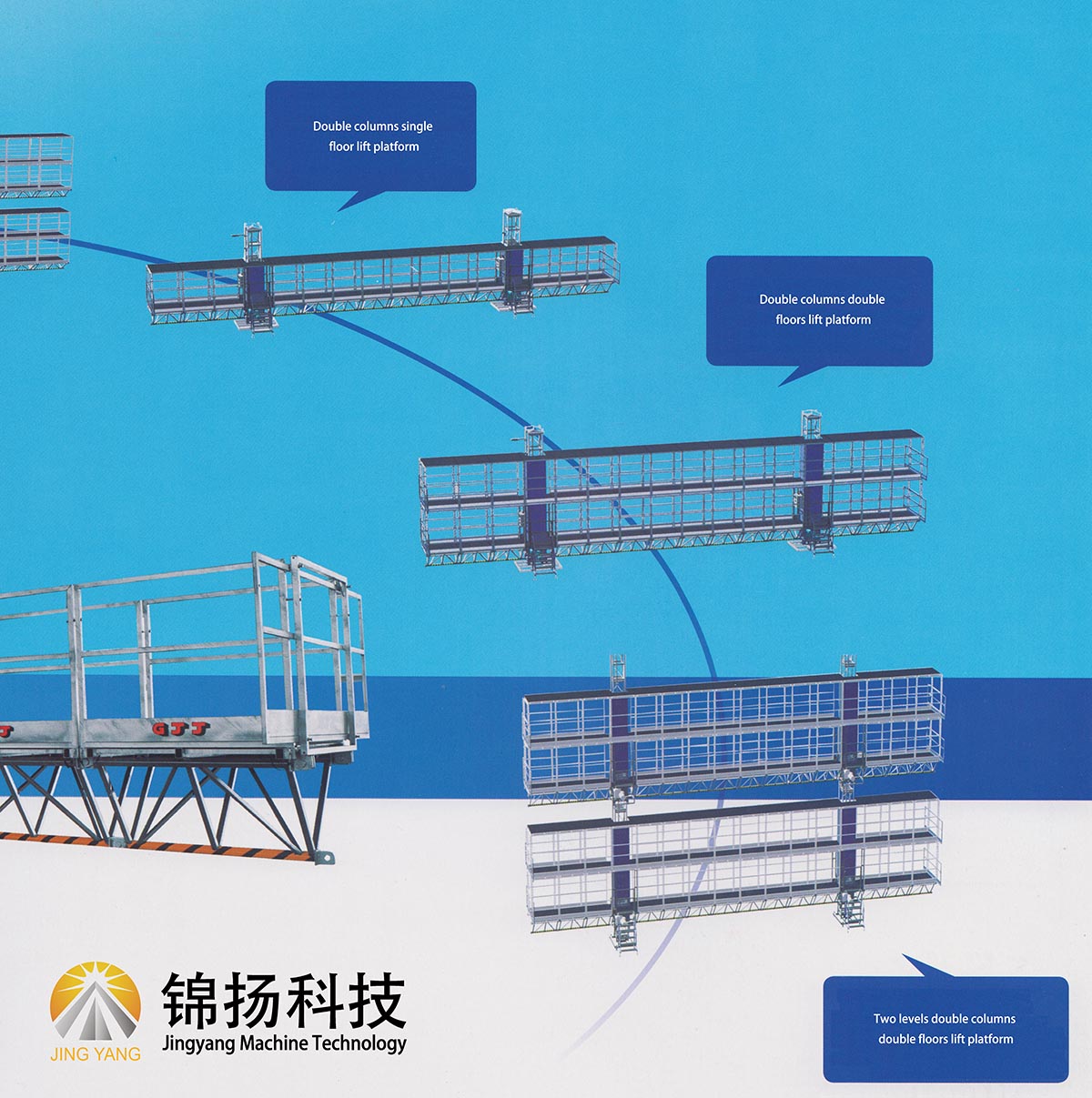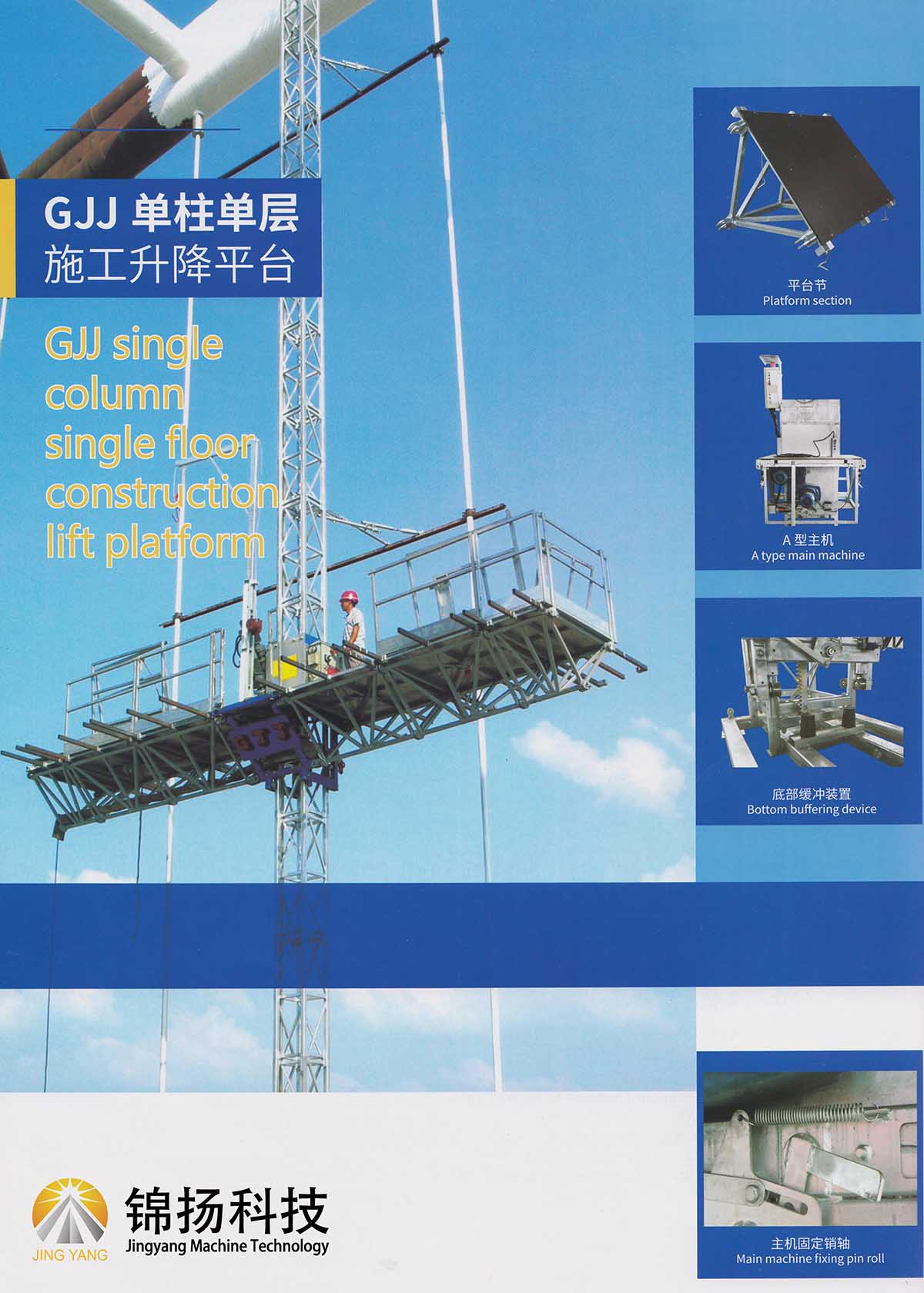 Main applications:
External wall decoratins
External wall cleaning
External wall coating
Construction of glass curtains
| | |
| --- | --- |
| SCP160 single column single floor construction lift platform |   |
| Platform length [m] | 4.5 ~ 13.5 |
| Platform width [m] | 1.2 〜2.2 |
| Max. load [kg] | 1600 |
| Standard distance to the wall [m] | 3〜6 |
| Max. independent height [m] | 7.5 |
| Max. suspension arm [m] | 7.5 |
| Standard section specification | 076/650X650X1508 |
| Platform section measurements (L*W*H)[m] | 1.5X1.2X0.8 |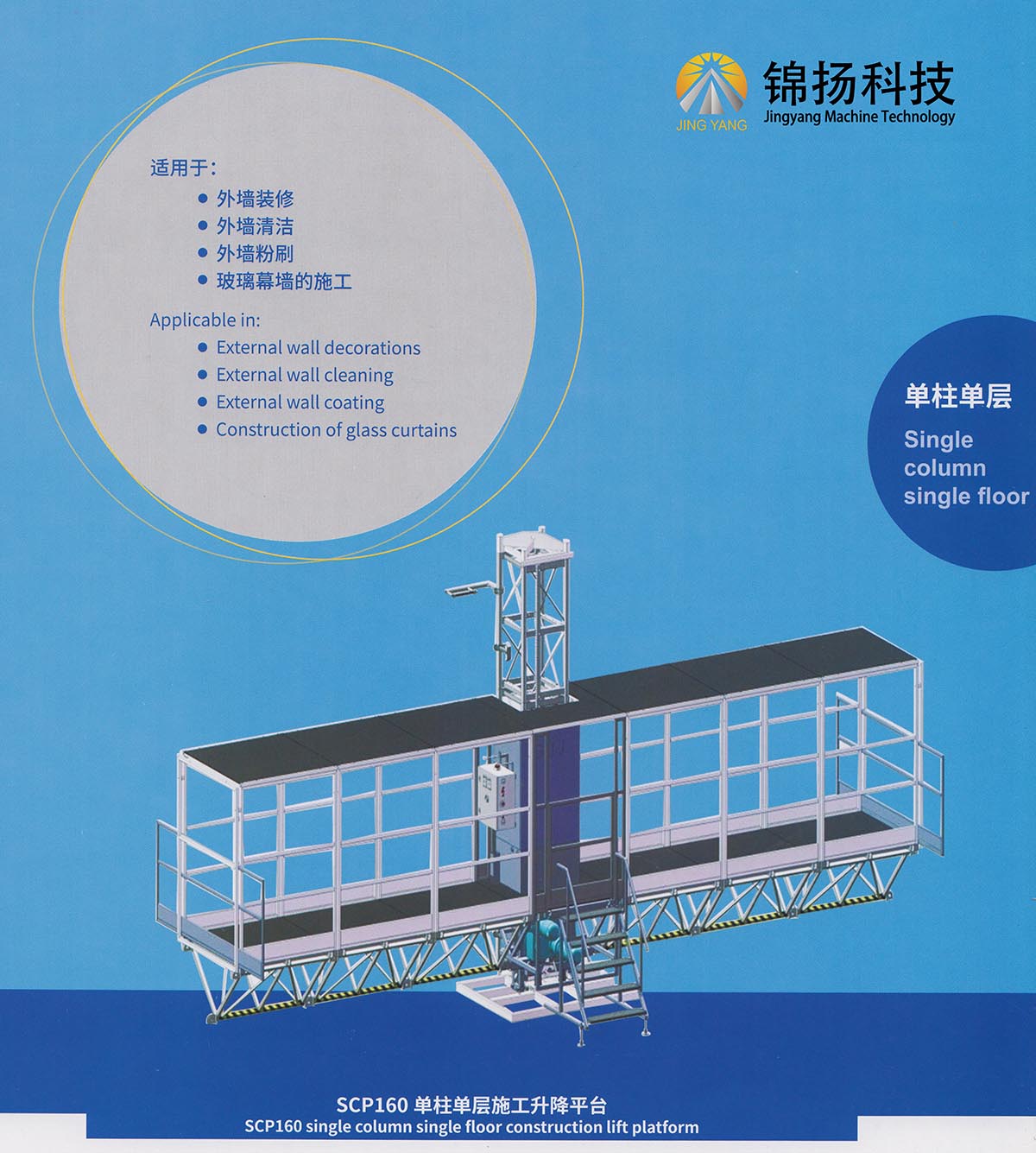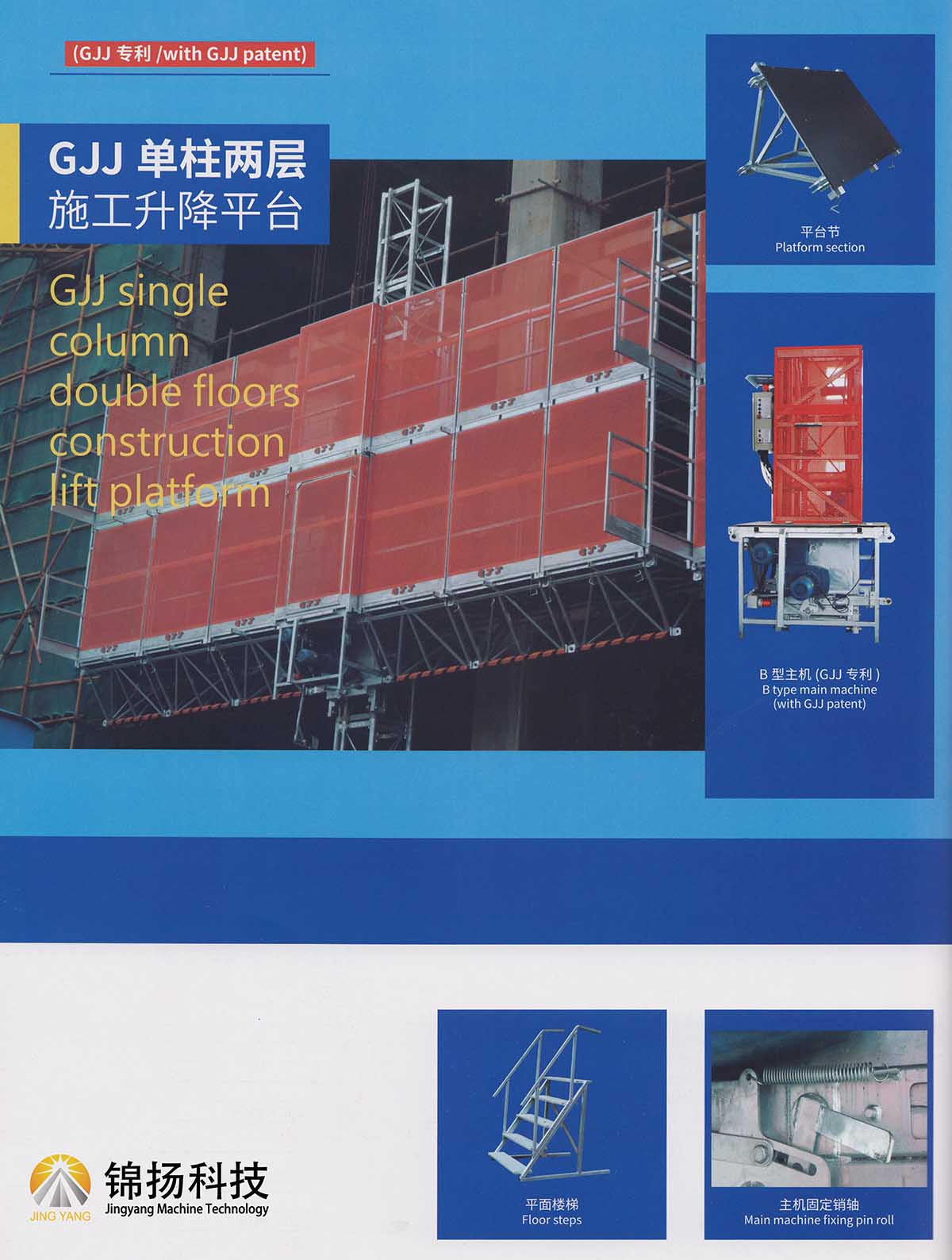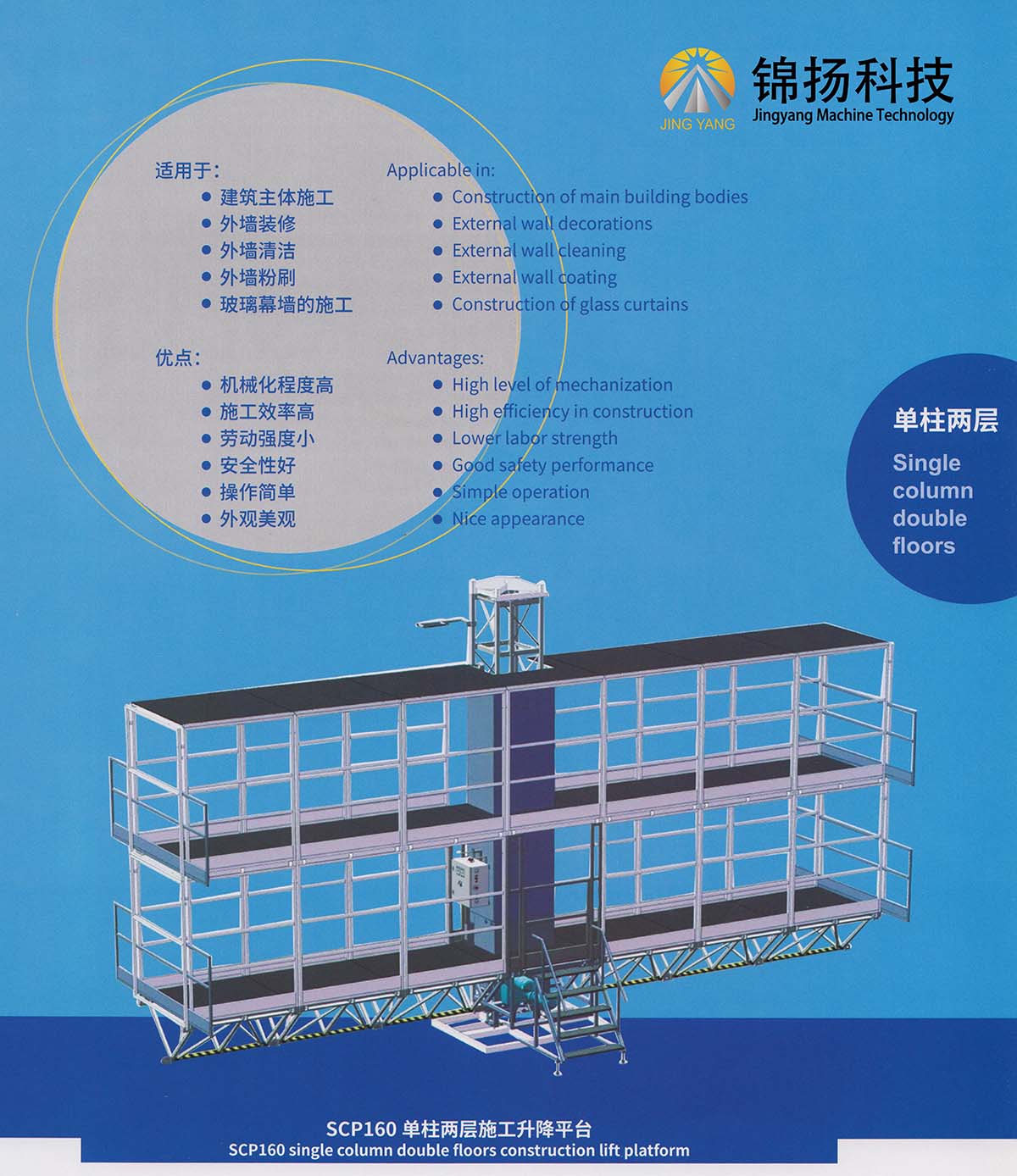 Applicable:
Construction of main building bodies
External wall decorations
External wall cleaning
External wall coating
Construction of glass curtains
Advantages:
High level of mechanization
High efficiency in construction
Lower labor strength
Good safety strength
Good safety performance
Simple operation
Nice appearance
| | |
| --- | --- |
| SCP160 single column single floor construction lift platform |   |
| Platform length [m] | 4.5 ~ 13.5 |
| Platform width [m] | 1.2 〜2.2 |
| Max. load [kg] | 1600 |
| Standard distance to the wall [m] | 3〜6 |
| Max. independent height [m] | 7.5 |
| Max. suspension arm [m] | 7.5 |
| Standard section specification | 076/650X650X1508 |
| Platform section measurements (长 * 宽 * 高) (L*W*H)[m] | 1.5X1.2X0.8 |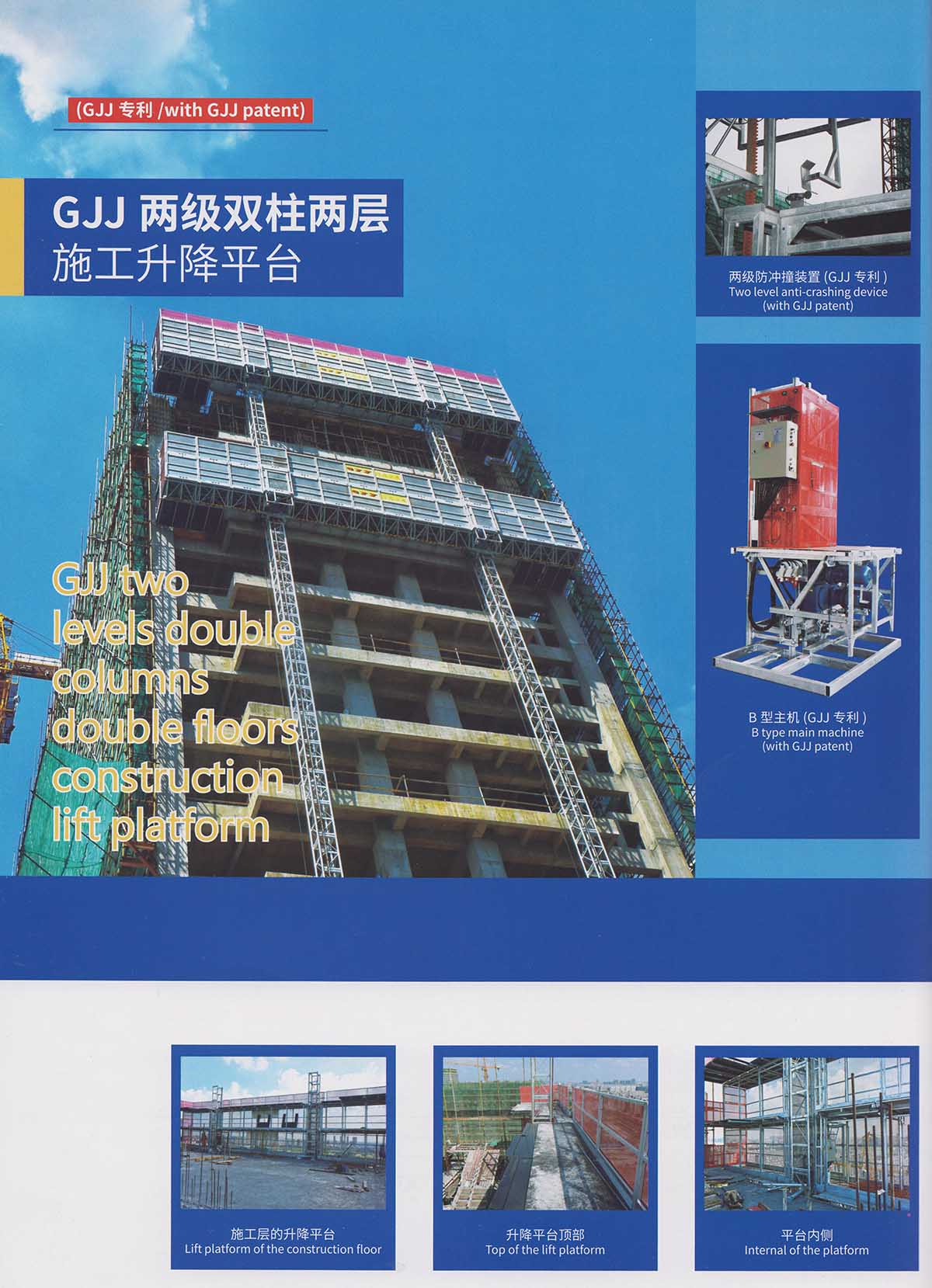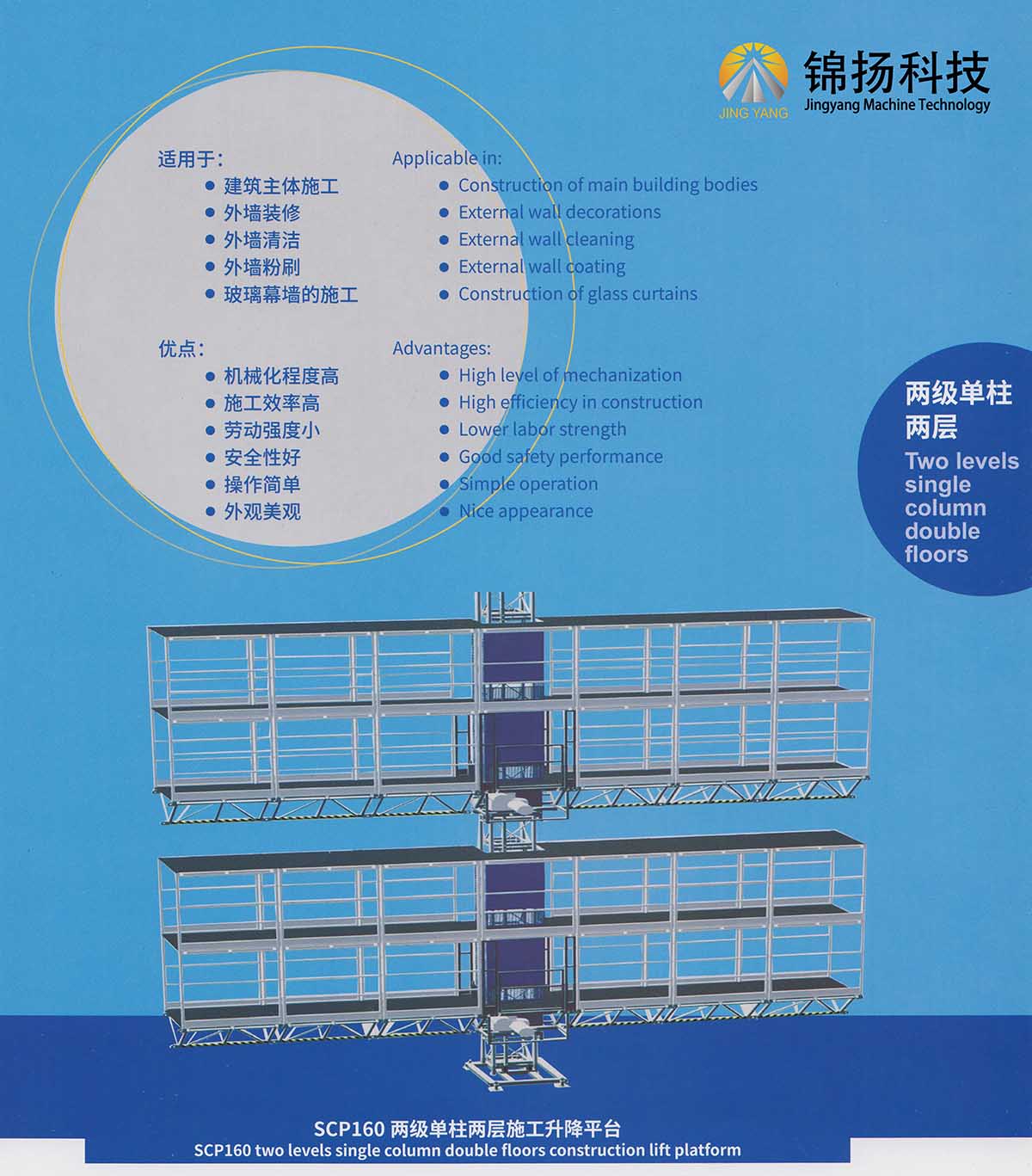 Applicable:
Construction of main building bodies
External wall decorations
External wall cleaning
External wall coating
Construction of glass curtains
Advantages:
High level of mechanization
High efficiency in construction
Lower labor strength
Good safety strength
Good safety performance
Simple operation
Nice appearance
| | |
| --- | --- |
| Platform length [m] | 9〜24 |
| Platform width [m] | 1.2 〜2.2 |
| Max. load [kg] | 2X1600 |
| Standard sectional distance [m] | 7.5 〜13.5 |
| Standard distance to the wall [m] | 3〜6 |
| Max. independent height [m] | 7.5 |
| Max. suspension arm [m] | 7.5 |
| Standard section specification | 076/650X650X1508 |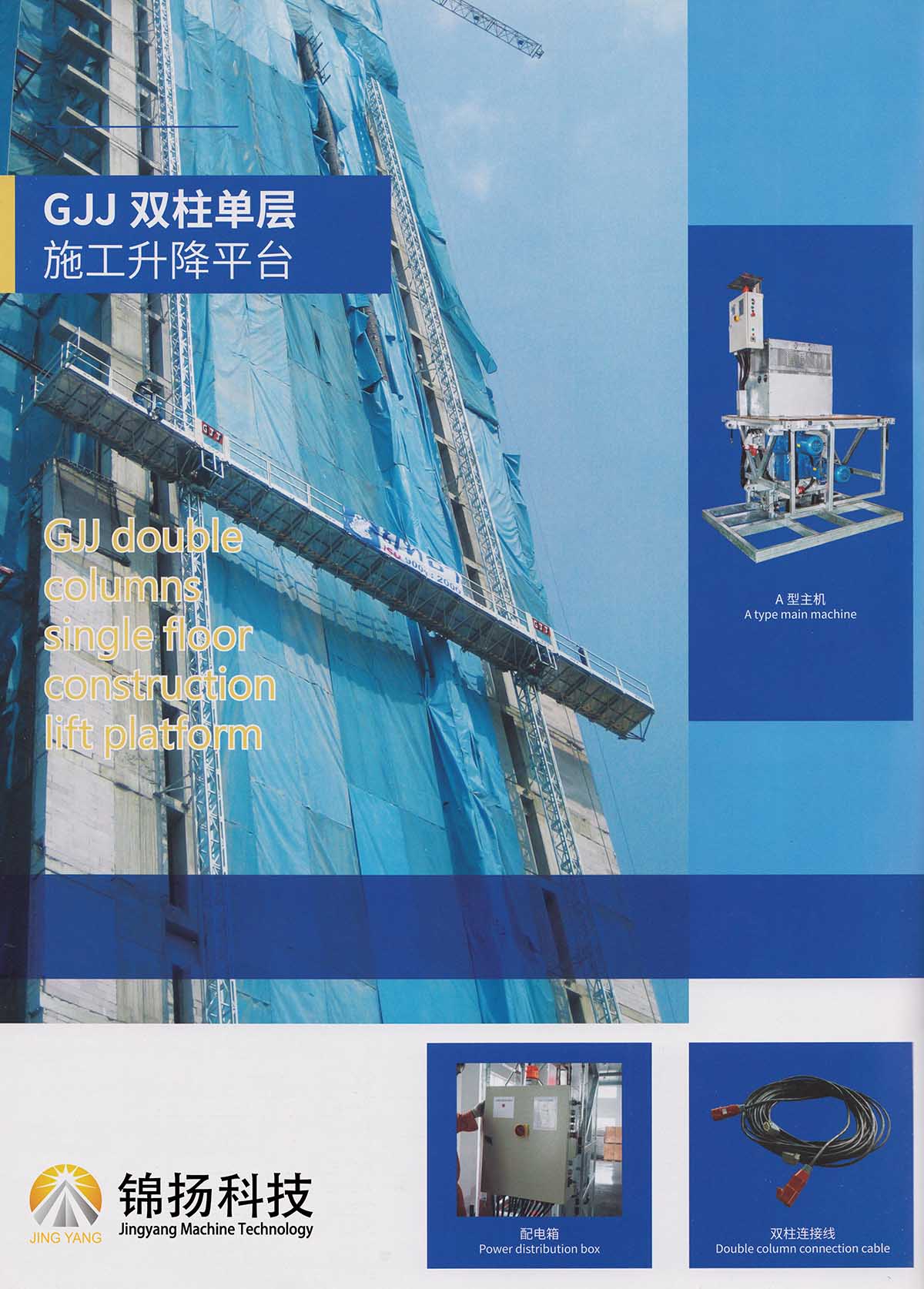 Double columns single floor platform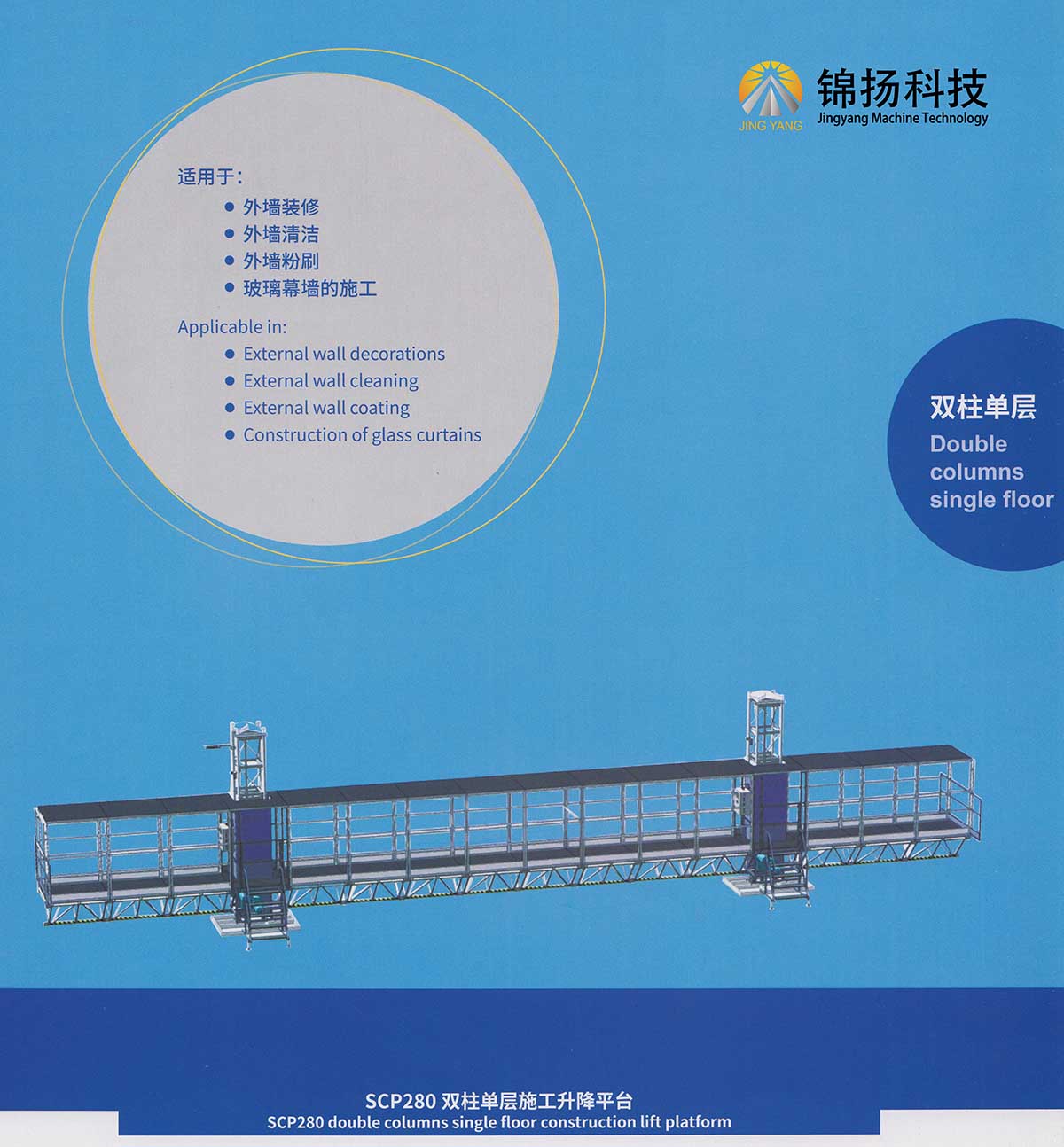 Application in:
External wall decoration
Extermal wall cleaning
Extermal wall coating
Construction of glass curtains
| | |
| --- | --- |
| Platform length [m] | 9〜30 |
| Platform width [m] | 1.2 〜2.2 |
| Max. load [kg] | 2800 |
| Standard sectional distance [m] | 7.5 〜16.5 |
| Standard distance to the wall [m] | 3 〜6 |
| Max, independent height [m] | 7.5 |
| Max. suspension arm [m] | 7.5 |
| Standard section specification | 076/650X650X1508 |
| Platform section measurements | 1.5X 1.2X0.8 (L*W*H)[m] |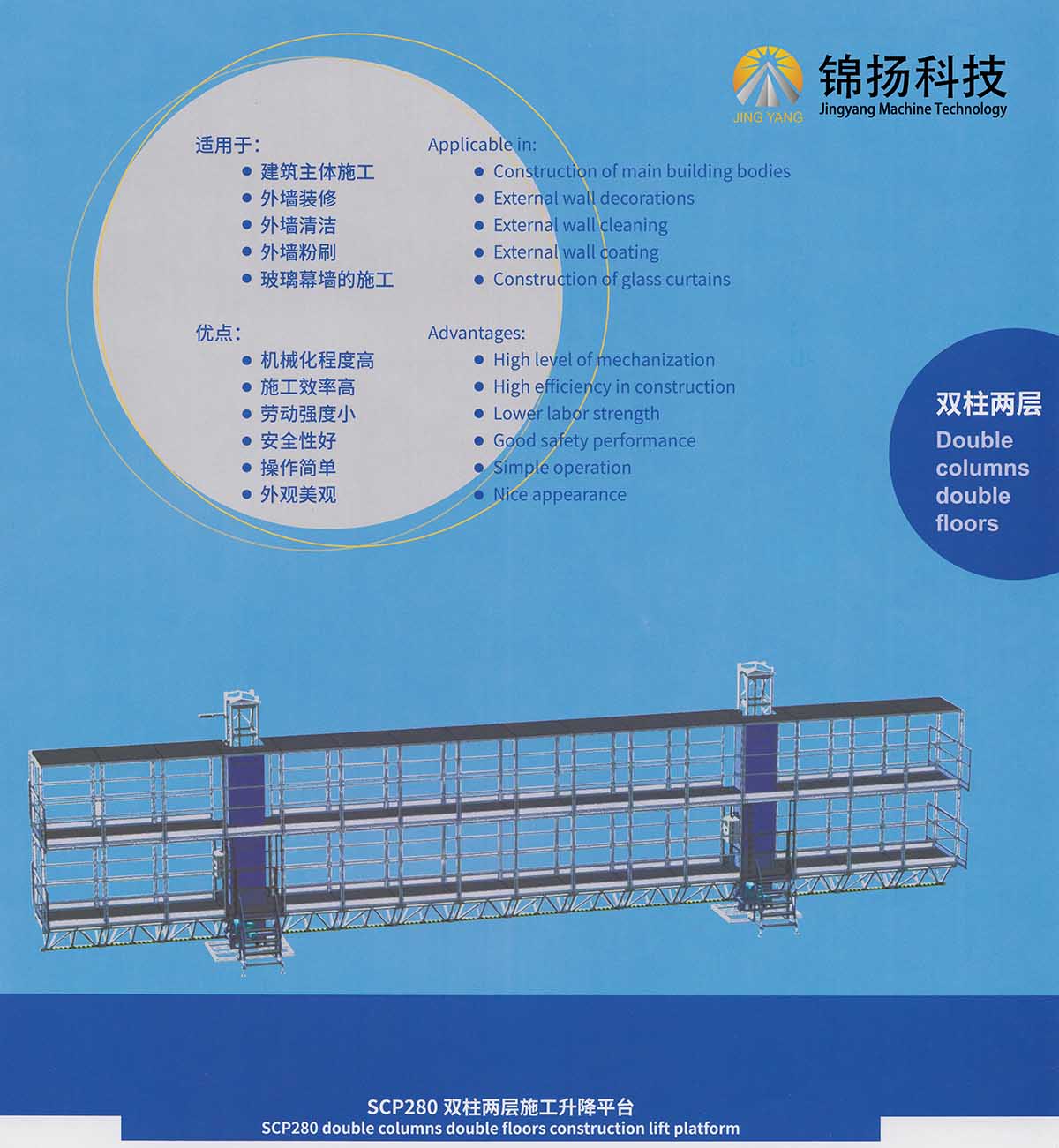 SCP280 double columns double floors construction lift platform
Applicable in:
Construction of main building bodies
External wall decorations
External wall cleaning
External wall coating
Construction of glass curtains
Advantages:
High level of mechanization
High efficiency in construction
Lower labor strength
Gpod safety performance
Simple operation
Nice appearance
| | |
| --- | --- |
| Platform length [m] | 9〜24 |
| Platform width [m] | 1.2 〜2.2 |
| Max. load [kg] | 2800 |
| Standard sectional distance [m] | 7.5 〜13.5 |
| Standard distance to the wall [m] | 3〜6 |
| Max. independent height [m] | 7.5 |
| Max. suspension arm [m] | 7.5 |
| Standard section specification | 076/650X650X1508 |
| Platform section measurements (L*W*H)[m] | 1.5X1.2X8 |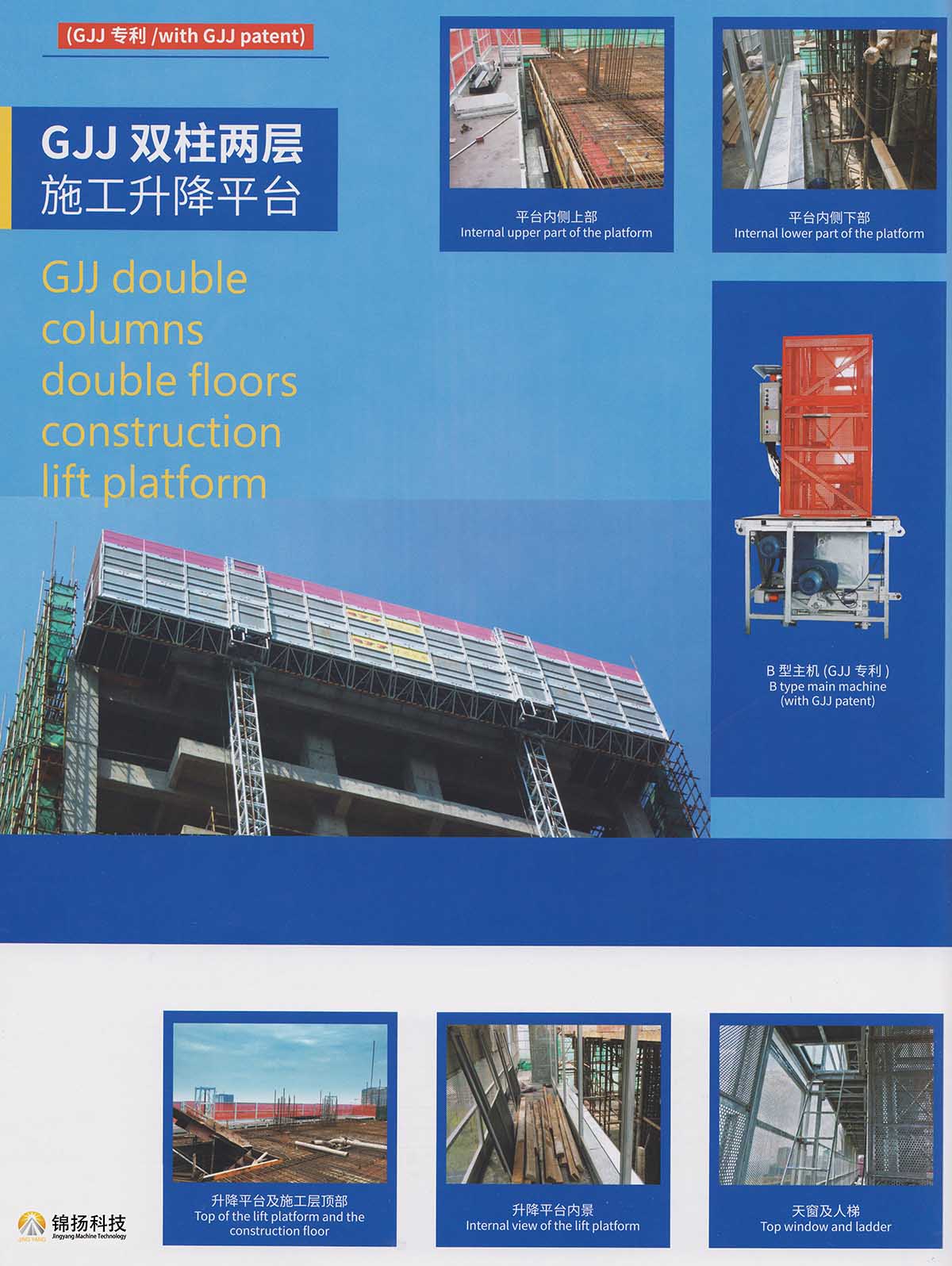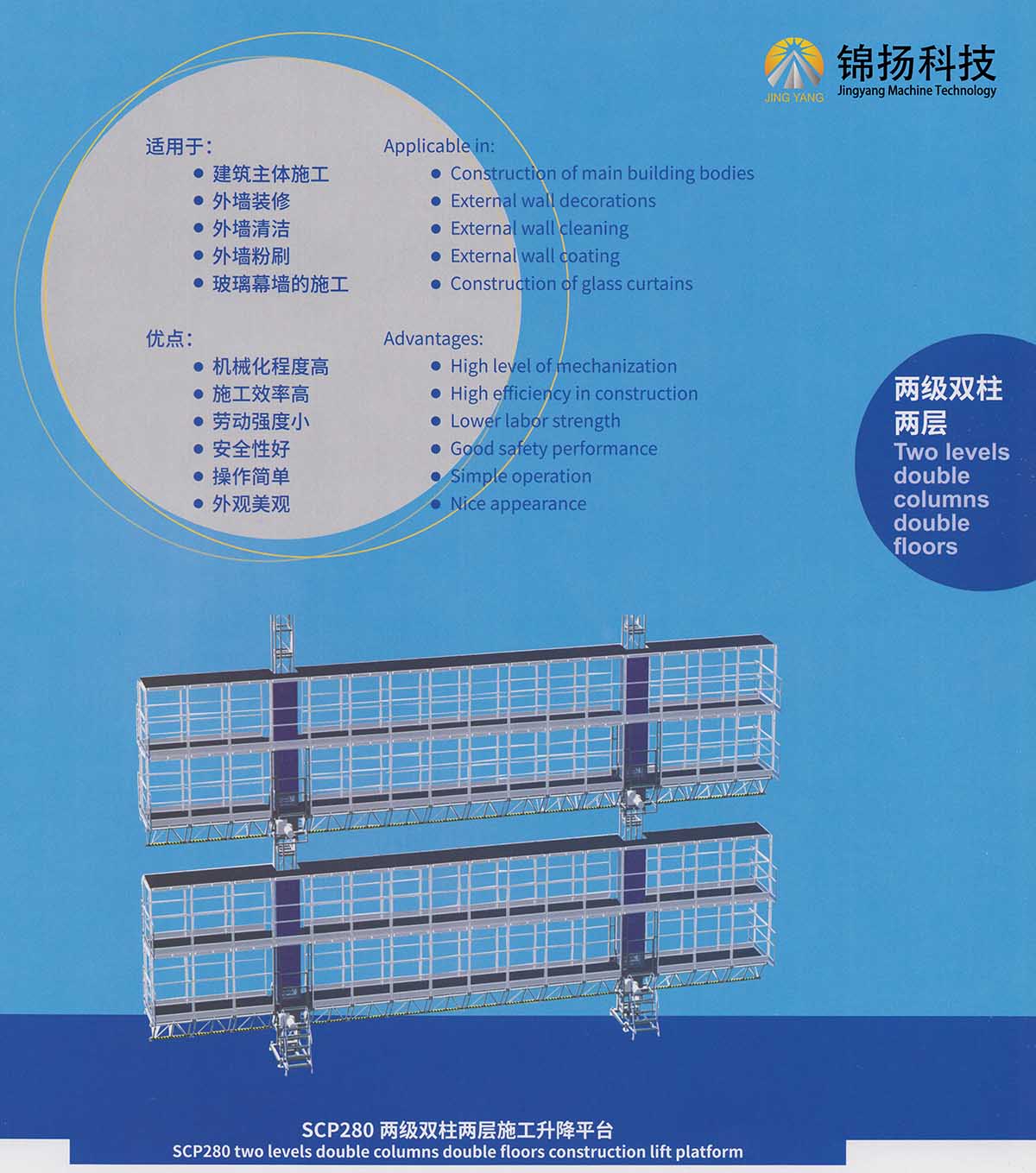 Applicable in:
Construction of main building bodies
External wall decorations
External wall cleaning
External wall coating
Construction of glass curtains
Advantages:
High level of mechanization
High efficiency in construction
Lower labor strength
Good safety performance Simple operation
Nice appearance
| | |
| --- | --- |
| Platform length [m] | 9〜24 |
| Platform width [m] | 1.2 〜2.2 |
| Max. load [kg] | 2X2800 |
| Standard sectional distance [m] | 7.5 ~ 13.5 |
| Standard distance to the wall [m] | 3〜6 |
| Max. independent height [m] | 7.5 |
| Max. suspension arm [m] | 7.5 |
| Standard section specification | 076/650X650X1508 |
| Platform section measurements  (L*W*H)[m] | 1.5X1.2X0.8 |